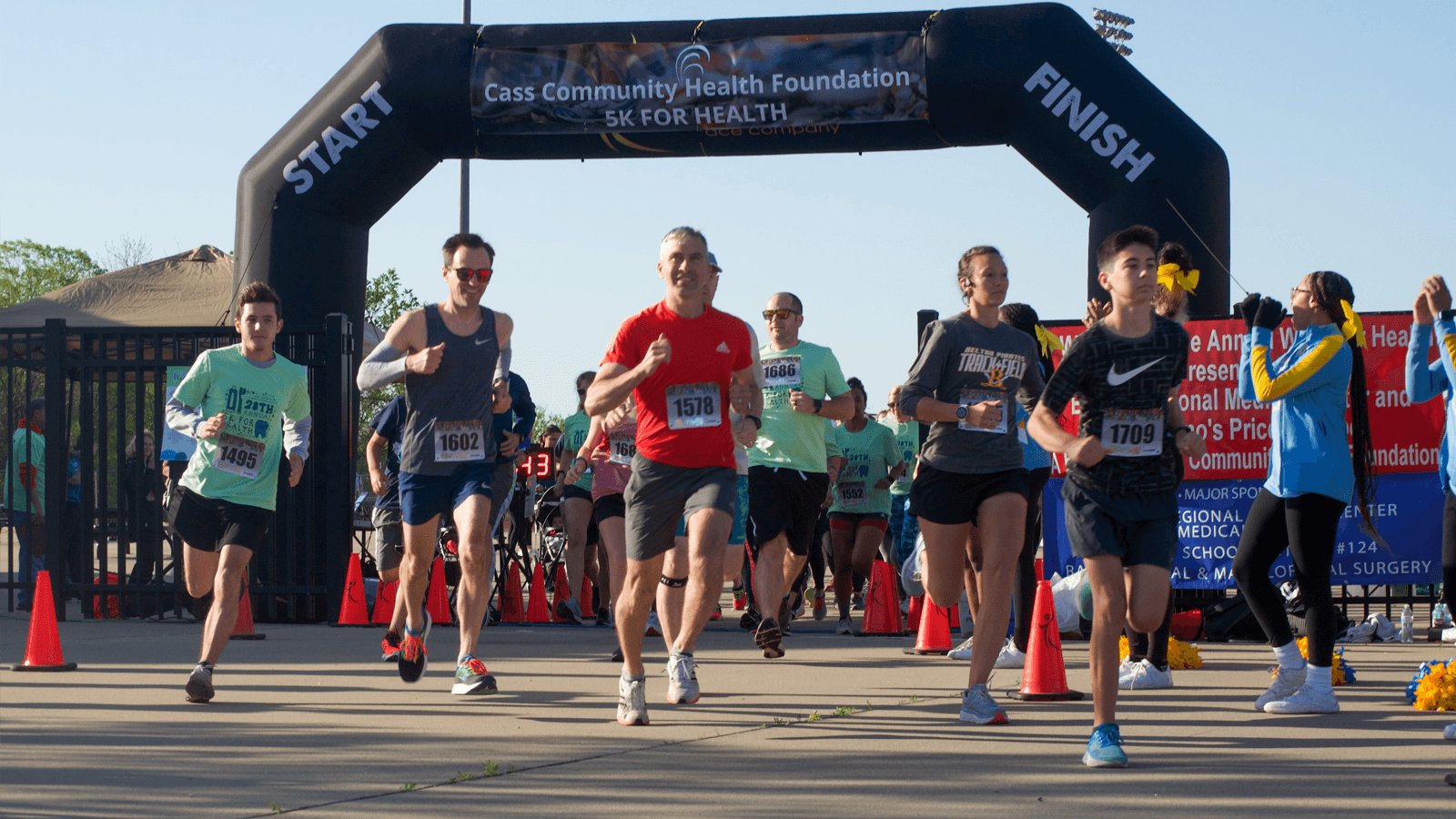 BELTON, Mo., (Jan. 12, 2023) – Cass Community Health Foundation's annual 5K for Health will be Saturday, May 6 at Southwick Stadium in Belton, Missouri. The 29th Annual 5K for Health will raise money for patients at Cass Community Health Foundation's safety net dental clinic, Cass County Dental Clinic, who serves children and teens in the area. The clinic operates two locations in Belton and Harrisonville, Missouri. Children ages 0-20 who otherwise couldn't afford quality dental care are treated at the clinic.
Cass Community Health Foundation hopes to raise $100,000 for Cass County Dental Clinic through the 5K for Health. To help meet that goal, all participants are asked to pay the $40 registration fee. Everyone who registers will receive the official 29th Annual 5K for Health t-shirt and a numbered bib. Additional prizes will be awarded to anyone raising $150 or more. Walkers and runners are encouraged to create fundraising teams with family and friends to help the foundation meet its fundraising goal.
"We hope to have the most successful 5K for Health in 2023 and we can't do it without Cass County and Grandview community members," Cynthia Randazzo, Cass Community Health Foundation president said. "As we work hard to meet our fundraising goal, we look forward to working with those who support improved oral health for children in our communities."
Following the 5K, all participants are invited to enjoy all-you-can-eat Chris Cakes, the 5K Block Party and Health Fair sponsored by Belton Regional Medical Center, music, and raffle prizes.
Dr. Rob Tait, Grandview private dentist, will chair the 5K and Belton Regional Medical Center CEO Todd Krass will co-chair. The 5K course will begin and end at Southwick Stadium. Day-of registration begins at 7:30 a.m. and the 5K begins at 8 a.m.
Cass Community Health Foundation is now offering 5K sponsorship opportunities to area businesses and organizations. For more information on sponsoring the event, visit casscommunityhealth.org/5ksponsor.
Call 816-276-4218 or visit casscommunityhealth.org/5k to learn more about the 29th Annual 5K for Health.