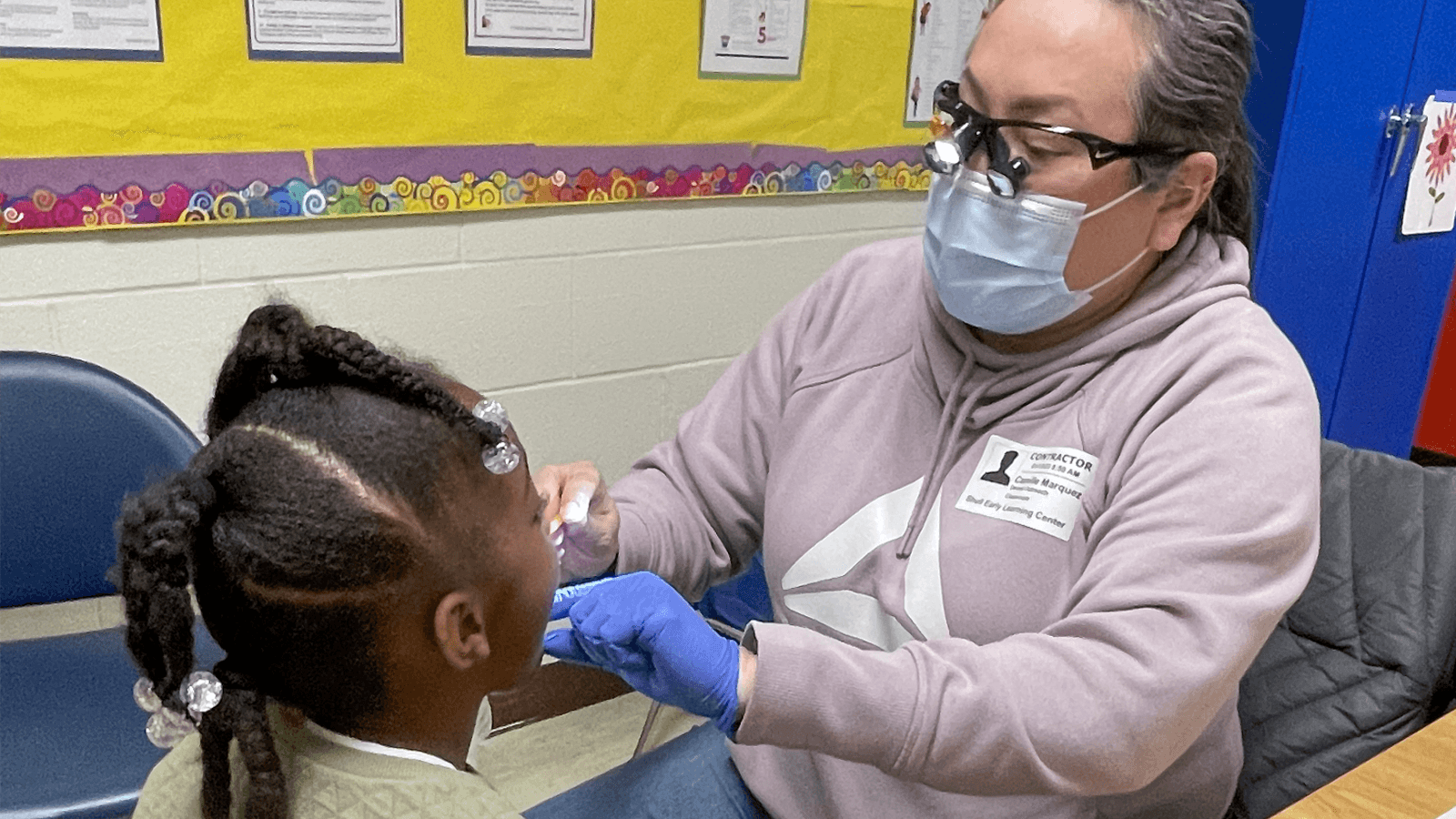 BELTON, Mo., (Jun 8, 2023) – Cass Community Health Foundation provided free dental screenings and teledentistry services to Cass County and Grandview schools during the 2022-2023 academic year. Both programs are school based with 6,487 students receiving free screenings and 283 students benefiting from the teledentistry program.
"Our partnerships with Cass County and Grandview schools are vital to the oral health and overall health of children in our community," Katie Schroeder, CCHF director of dental programs said. "Bringing dental services into schools maximizes our ability to screen, develop treatment plans, and create healthy smiles for students. A healthy smile leads to improved health and increased capacity to learn. We deeply value the relationships we have with our volunteers and area school districts."
The dental screenings were offered to students in the Archie, Belton, Cass Midway, Drexel, Grandview, Harrisonville, Pleasant Hill, Raymore-Peculiar, Sherwood, and Strasburg school districts. Among the 6,487 screened, 22% had untreated cavities. The foundation worked with school nurses to help coordinate follow-up dental care. Students who were insured by Missouri Medicaid or uninsured and lacked access to dental care were referred to the foundation's safety net dental clinic, Cass County Dental Clinic.
Cass Community Health Foundation recruited 129 volunteers to help complete the screenings, which totaled 873 hours of volunteer time. Local dentists Dr. Ian Kuklenski of Belton Healthy Smiles, Dr. David Merello, Dr. Terry Myers of Keystone Dentistry in Belton, and Dr. Rob Tait of Grandview volunteered their time to assist at the screenings. Concorde Career College's dental hygiene program, the University of Missouri-Kansas City's (UMKC) dental hygiene program, and several community members also volunteered.
The screenings, completed in partnership with the Missouri Department of Health & Senior Services-Office of Dental Health, also include oral health education, oral hygiene supplies, and two free fluoride varnish treatments for children with parental consent. During the 2022-2023 screenings, 55% of students received fluoride varnish applications.
Cass Community Health Foundation and staff members at its safety net dental clinic, Cass County Dental Clinic, provided the teledentistry services for eligible students in Archie, Belton, Drexel, Grandview, and Harrisonville school districts.
Staff members of the clinic visit the schools to provide cleaning and preventive services. They also capture photos and x-rays for clinic dentists to use to diagnose cavities and develop treatment plans virtually. These services make dental care more convenient for families in Cass County and the surrounding area, allowing Cass Community Health Foundation and Cass County Dental Clinic to expand access to improved oral health. Supply donations from the American Dental Association Foundation's Give Kids a Smile program support these preventive dental services.